Private Yoga Classes
Private yoga classes are a great way for you to work on your individual needs and and to deepen an existing practice or begin a new one. You can also organise a class for you and your friends or colleagues at work.
Cost of private lesson
These prices are for classes held at the studio at 39 Rodney Street in Liverpool city Centre or at your home, additional fees may apply for travel depending on your location.
1 hour £35
90 minutes £40
2 hours £45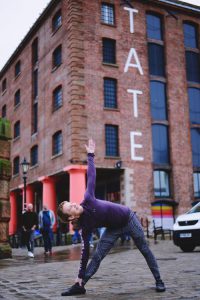 Want to share the cost with a friend? Great idea add an additional £5 per person as my teaching is highly personalised. So you and a friend can enjoy a one hour private class for just £20 each.
Contact Helen for further information.
Reviews
"I had been to a few Ashtanga lessons before I started going to Helen's classes. I knew that I wasn't doing postures properly because they didn't feel confortable. I didn't know what I was doing wrong and how to fix it!
Helen is amazing. I have improved so much. She has showed me exactly where I was going wrong. Now one of the postures that caused me so much trouble is one of my favourites!!
As well as the classes, Helen also has a Youtube channel. There are sessions that target different areas such as hips and shoulders. There are also different versions of the primary series if you are pushed for time!!
I would highly recommend!!" Natalie
Yoga at Work
I teach yoga at various business, it is a great way to help your workforce invest in their health and wellbeing and reduce stress. Classes are customised to the needs of the group and can be of a yoga style of your choosing, I can help you work out what that is is you are unsure. Yoga at work is £40 for one hour, contact Helen to discuss further.