Ashtanga Yoga: The Practice Manual by David Swenson
This was my first Ashtanga yoga book and remains well used. It has great modifications for beginners. It also has an at a glance practice chart for primary and second series. It has some shorter sequences, if you're short on time. This is a classic. If your going to buy one book on Ashtanga, I recommend you buy this. David Swenson is a great teacher. In 2008 I completed a teacher training intensive with him.
Ashtanga Yoga Practice and Philosophy by Gregor Maehle
This is a more in-depth look at both the practice and philosophy of Ashtanga Yoga. It has in depth descriptions of the asana, including anatomical detail. Very clearly written with invaluable detail for those wanting to delve a little deeper. This a great book to get if you have been practicing for a while and want to deepen your understanding of Ashtanga Yoga practice and philosophy. It gives detailed descriptions of each position as well as a translation of the Yoga Sutras.
Ashtanga Yoga As It Is by Matthew Sweeney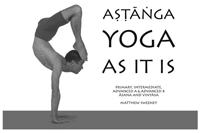 I went to a workshop with Matthew Sweeney in 2008. He is a brilliant teacher. This is a short book, but it seems to have invaluable information on everything Ashtanga. I think this book would be more useful for people with some experience of Ashtanga as it does not give you an explanation of each pose. If you need this information I suggest you purchase one of the other two books. Nevertheless this is one of my favourite books and a great source of information on all things Ashtanga.
I am an avid reader and will be posting relevant book reviews on Ashtanga Yoga Liverpool's blog.