Occasionally someone will tell me that they are too tight to do yoga. Isn't that a shame! Besides the fact that yoga isn't really about flexibility, mobility is something that will inevitably improve if they do more of it. The great thing about yoga is that everyone can just do what they can in each and every pose. If a position is not possible it can be adapted or modified to make it possible.
It's human nature to want to do more of the things you are good at and often a yoga class will have people in it who are above average flexibility. This isn't just because people who come to yoga in the first place are more likely to be flexible. Yoga also makes people more flexible. It works! Often people think when they see the person next to them touching their toes that this person is lucky and different to them. One of the bendy ones! What you can't see at first glance is that maybe this person was just as tight as you once. Maybe they have practiced yoga everyday for 5 years, maybe that is what makes them more flexible.
Flexibility does not mean advancement in Yoga
Being more flexible does not make you a better person and certainly doesn't make you a better yogi. I know this may come as a surprise in a world where you are over saturated by advanced yoga poses on Instagram, but this is not really advancement. If you want to know if your yoga practice is really working ask yourself not can I get my leg behind my head, but can you stay calm in a crisis. Can you listen attentively to a friend or a family member when they need you. Can you listen to yourself? You don't have to be perfect, no one is expecting that of you either, but is the yoga helping you in some real tangible way in the way you relate to yourself and others?
You may think that these flexible yogi's think less of you for not being as flexible as them. If they do, which I doubt, I suspect you don't need their warped approval anyway. If the yoga is really working for them they will not be walking around judging people based on something as shallow as flexibility.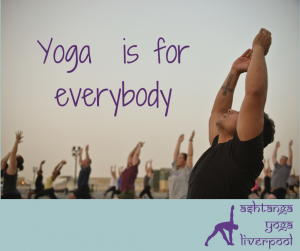 Flexibility is a helpful benefit of a regular yoga practice
Many people do yoga to increase their flexibility and there is nothing wrong with that. Increasing your flexibility will help you function better in your day to day life and help you greatly if you participate in sport. Many professional athletes have taken to yoga for this reason.
Over my last 10 years of teaching I have taught a wide range of bodies from flexible too tight, young to old. Everyone is different and maybe really flexible in one way and really tight in another. So if you're tight please do not let it stop you from doing yoga. I know you will need to be patient but this patience will serve you well in your life as you take the benefits of yoga into your life.
Do you consider yourself to be inflexible? Do you practice yoga? Has yoga helped you become more flexible? Share your stories here…