Reading is one of my passions, here are the non-fiction books that I have found helpful this year. The books I have chosen are not about yoga but mostly about developing a great mindset to do all the things you want in life and to understand yourself and others more.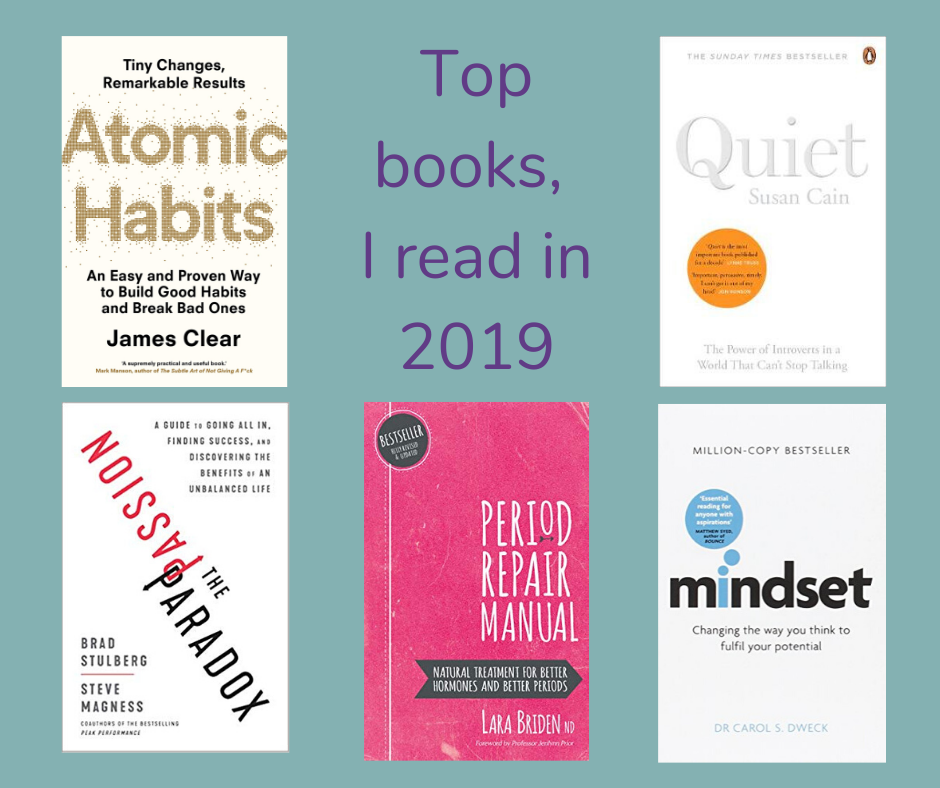 Atomic Habits- an Easy Way to Build Good Habits and Break Bad Ones by James Clear
Achieving our goals has so much more to do with the simple tasks we do in our day to day life than what we do every once in a while. James breaks down the research and gives great tips for how to build the habits you want in your life as well as how to stop doing the ones you don't.
Quiet: The Power of Introverts in a World That Can't Stop Talking by Susan Cain
This book explores the research into introverts with some really interesting findings. If you are an introvert it will help you understand yourself, your strengths and your needs better. The world can be very biased towards extroversion, which I had never really thought of before. If you are an extrovert it will help you understand the introverts in your life better. A fascinating read.
The Passion Paradox: A Guide to Going All In, Finding Success, and Discovering the Benefits of an Unbalanced Life by Brad Stulberg and Steve Magness
I found this book pretty mind blowing. The authors explore how following ones passion is not always a positive thing. They then offer some great advice about how to navigate your passions in a healthy way and make the process more conscious through mindfulness and reflection. If you are someone who is very passionate and dedicated/obsessive (putting my hand up) you will find it helps you reflect on your choices and understand yourself better.
Period Repair Manual: Natural Treatment for Better Hormones and Better Periods by Lara Briden
This one is for the women and is different to the others but as I have recommended it to two women in the last week, I have decided to include it here. Lara is a naturopathic doctor who specialises in women's health. This is a great book and explores some ways to improve this rarely discussed topic of women's health.
Mindset – Changing The Way You think To Fulfil Your Potential by Carol Dweck
This book explores the concept of fixed and growth mindset. A fixed mindset is when you think you have a fixed ability in something, whereas a growth mindset is when you think that you can develop your ability in something. I wrote a separate blog post about this book here.
These are just some of my favourite books that I have read this year. Have you read any of them? What were your favourites this year?